Jameis Winston: Celebrating Youth
December 5th, 2014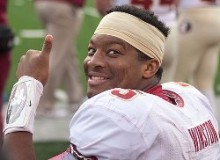 Crab-legs-stealing, BB-gun-shooting, obscenity-hollering, Heisman-Trophy-winning, national champion James Winston, the pride of Florida State University, continues to look like a much better quarterback prospect than Mike Glennon and Josh McCown.
It's Joe's daily nugget on the Jameis Watch, celebrating the best quarterback to wear No. 5 ever in the state of Florida.
Joe's keeping it light tonight, in advance of Jameis Winston trying to keep the Florida State winning streak alive in the ACC title game against Georgia Tech quarterback Justin Thomas. (Kickoff is tomorrow night at 8 p.m. on ABC.)
Winston and Thomas go back to their Pop Warner days, when they were opponents leading their teams.
ESPN got a hold of old school video of them in 2005. Please enjoy it below.
Frankly, you're not much of a football fan if you can't appreciate watching little kids giving their all on the gridiron.