Hurry Up… Maybe
December 30th, 2014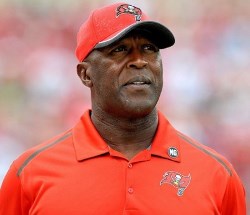 Joe has stated that the most important goal for the Bucs and Lovie Smith is very simple: That would be to hire an offensive coordinator.
Who that coordinator may be will very likely determine who the Bucs select at quarterback in the 2015 draft, whether it be pro-style Jameis Winston or spread-option Marcus Mariota.
Bucs coach Lovie Smith believes the hiring of an offensive coordinator should be on the front burner, provided the burner is not too hot.
"As soon as possible," Lovie said. "I mean, that's it as far as the timeframe. We're not playing a game tomorrow or anything like that, but I'd like to get the staff in place really as soon as possible. But at the same time, not rushing anything – we have time. So I'm going to take my time and use this opportunity, as I said, to talk to as many people as I possibly can and go from there."
This is nice to know, but as far as Joe is concerned, if the Bucs don't first hire an offensive coordinator, then there is no direction for both the offense and draft planning.
It is a tightrope to walk. The Bucs want to take their time to hire the right guy. Yet, the clock is ticking. The longer they wait to hire an offensive coordinator, the longer it takes to implement a plan.