"Haven't Gotten That Far Yet"
December 16th, 2014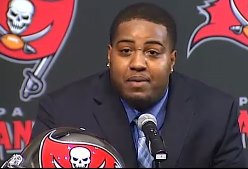 If you are uncertain whether Anthony Collins' days as a Buccaneer can be measured in a matter of hours, then Joe's not sure what to say.
Collins wasn't just benched from his starting left tackle spot Sunday.
Collins was deactivated against the Panthers. This is noteworthy because Collins played plenty of right tackle for his previous team, the Cincinnati Bengals. So the Bucs decided he wasn't worthy of being backup Sunday, or sliding to the right side.
Lovie Smith was asked yesterday about considering Collins at right tackle while Demar Dotson showcases himself at left tackle.
Lovie said, we "haven't gotten that far yet."
Really, Coach? It's was Week 15. How long does it take to decide if a guy whose played right tackle for years, a guy you're paying $6 million a season, is worthy of a look at the position.
Joe wishes Collins well with his next team.