Expect Roster Upheaval (Again)
December 29th, 2014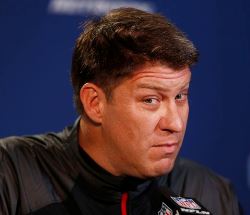 The fact the Bucs won the Chase for Jameis sort of takes one's eye off the ball.
When you possess the No. 1 pick in the draft, that means you are a pathetic football team.
As much as Bucs fans are elated, the ugly truth is this team is a long, long, long way from winning. That is, under the current lot that comprises this roster.
Oh, and changes are a comin' documents Pat Yasinskas of ESPN.com.
What's next: The season is over, but there is heavy work ahead for the Bucs. You don't sit still after a season like this. That means the Bucs will get rid of some players who don't fit their schemes and they'll free up some salary-cap room. That will allow Tampa Bay to be a major player in free agency.
Just off the top of Joe's head, the Bucs are going to revamp (again) the offensive line, and Joe certainly hopes whoever pitched Oniel Cousins and Josh Allen and Anthony Collins and Garrett Gilkey to Bucs general manager Jason Licht is locked in a cage until training camp.
Pretty sure the Bucs make a run at linebackers, as well. Suddenly, Danny Lansanah, a restricted free agent, finds himself on the Mike Williams Watch List after violating a team rule and getting benched yesterday. Last time that happened was to fellow linebacker Jonathan Casillas in preseason. Lovie shipped him out not long afterwards. And we all know about Mason Foster's soon-to-be-public fate.