EDS's Heart Not In Green Bay
December 18th, 2014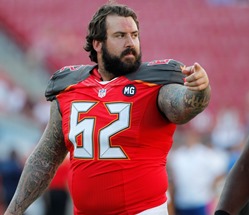 One linchpin of the Bucs' offensive overhaul this offseason was the signing of former Packers center Evan Dietrich-Smith.
While EDS isn't an awful center, one could argue he wasn't an upgrade from Jeremy Zuttah, and the Packers haven't exactly fallen apart having replaced him with a rookie from Ohio State, Corey Linsley.
While EDS had some good seasons playing for one of the NFL's hallmark franchises, he isn't exactly pining for home like one of his teammates, either.
"Nah, I had more than enough games there to prove what I can do," Dietrich-Smith said by way of Ryan Wood of the Green Bay Press Gazette.

"It's been an up-and-down year for our team. We've been kind of going in a couple different directions, but I don't really care. I see it as another game, a game that we want to go out and win. I don't think they're going to sit there and say, 'Hey, we need to get after this guy or that guy,' or, 'We've got to make sure we don't let Evan do X, Y and Z.'

"I'm one player on our team on an offense of 11 guys. I'm part of the cog. My play's going to have to speak for itself. I can do what I can do and, at the end of the game, we hope to come out on top."
Here is the thing about EDS: his signing broke one of Joe's cardinal NFL rules. Ted Thompson, the yoda of the Packers and arguably the most astute personnel mind in the game, doesn't let decent players walk away for peanuts.
Joe listened to the EDS conference call with Packers media, and EDS would not acknowledge whether Thompson offered him a contract to stay on the Wisconsin shore of Lake Michigan.
Despite Lovie Smith's pronouncement that EDS is an anchor of the Bucs offense, the offensive line was a trainwreck this season. Joe speculates there are only two guys with job security on the offensive line: Demar Dotson and Patrick Omameh, partly because of the latter's upside and smallish salary.
If Jason Licht thinks he can find a better bargain at center when the free agency dinner bell rings in March, or if they draft a center early, Joe isn't willing to lay cash EDS starts for the Bucs next season.