"Don't Ask Me. I Didn't Play."
December 28th, 2014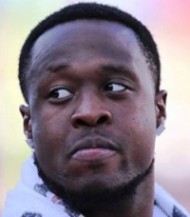 Gerald McCoy loves to talk to the media. McCoy even does a "Dini's Den" video feature on Buccaneers.com, and McCoy reminded Bucs fans the other day that "the camera loves me."
But McCoy didn't want to talk today.
There was no holding court for the media throng in the postgame locker room. Joe asked McCoy to chat, and McCoy said, "Don't ask me. I didn't play." Joe and McCoy exchanged pleasantries and McCoy left.
GMC wasn't being an obnoxious. He's a good dude, great guy. What was there to say for a guy who couldn't suit up due to injury?
Joe's heard that response before from McCoy. It came in the locker room after the national humiliation in Atlanta.
Joe likes McCoy and, hey, guys surely aren't obligated to give fancy interviews. But it was out of character for a player who will tell you he's the leader of the defense. Lovie Smith calls McCoy the face of the franchise.
The Bucs had some interesting captains this season. Josh McCown talked a great game but couldn't lead the Bucs anywhere and played like a rookie. Vincent Jackson leads by example but isn't a big fan of public chatter. McCoy and David led a defense that was worse than it was in 2013, one that gave up fourth-quarter booty repeatedly.
Joe doesn't think it's out of line to think the Bucs might need some new leaders to emerge next season, especially on the offensive side of the ball.