Disturbing Step Backwards For Defense
December 7th, 2014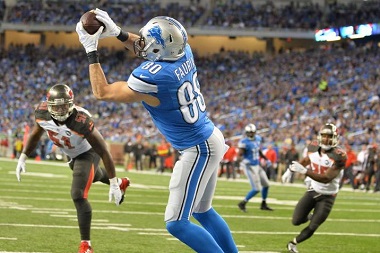 Matthew Stafford completed 76 percent of his passes today, and there was plenty of variety in the Lions' aerial attack.
The Tampa Bay defense looked much like it did early in this loose stool of a season.
So what should make a Bucs fan feel good about his team these days? Sadly, that's a tough question.
Yesterday, fans were feeling good about Lovie Smith's defense surging and performing well since the bye week. But today the defense took a disturbing step backwards. The Lions are not a juggernaut offense. But they pummeled the Bucs.
The Bucs defense had too many missed tackles, too much shoddy coverage, and the pass rush was spotty, despite three sacks. The run defense was solid but crumbled in the second half. And please don't give Joe the baloney of, 'Well, if you subtract that big Lions' run …' Life doesn't work that way.
The defensive failure especially stands out because the Bucs offense is garbage and the team collectively looks lost. The special teams aren't special, outside of Patrick Murray looking like the right offseason decision.
Right now, the mythical Bucs "arrow" is pointing straight down. The team was not competitive, and it's not the first time. Lovie Smith has to somehow move that arrow in the right direction over the past three games.
If he can't do that, well, Joe can't predict how Team Glazer would react to a 2-14 record, a giant mess and an angry fan base.
Laughingstock status usually drives major change.