"Can We Win With These Players?"
December 18th, 2014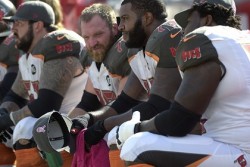 Sane and sober Bucs fans realize Tampa Bay is more than a season away from a legitimate run at a Super Bowl.
A case could even be made that this year's Bucs have taken a full step backwards. Last year, at least, the Bucs had more wins and were developing a young quarterback.
And that brings Joe to how Jason Licht and Lovie Smith might approach this offseason.
Former Bucs tight end Anthony Becht, a color man for ESPN college football and a voice on the Buccaneers Radio Network, weighed in a bit on the subject yesterday on WDAE-AM 620.
Becht talked a lot about the offensive line and praised Demar Doston for his steady improvement, though he said Dotson and all his linemates have not have good seasons.
When talking about the future of the O-line, Becht said the regime needs to ask itself, "Can we win with these players?"
Joe liked that line of thinking and it got Joe wondering how this awful season will change the approach in the offseason. The Bucs have to be thinking more long term.
Why would the Bucs keep declining players who are on the wrong side of 30 years old, when the team won't have a shot at a title run for at least a couple of years?
With that mindset, it would seem Anthony Collins (30) and Logan Mankins (32), are definite goners, with Doston (turned 29 in October) and Dietrich-Smith (28) wiser choices for the long haul.
You can hear all of Becht's takes via the 620wdae.com audio player below.