Cam Newton's Truck Crashed In Charlotte
December 9th, 2014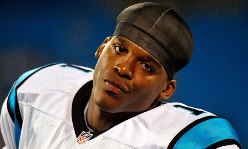 Joe has already heard from heartless Bucs fans who are distressed by this afternoon's news of Panthers quarterback Cam Newton flipping his truck a few times.
These meanies are troubled that Newton might miss Sunday's game in Charlotte and hurt the Bucs' chances of losing all their games and scoring the No. 1 overall pick in the 2015 NFL Draft.
What's wrong with you heartless people?
First, Newton seems to be OK, per a ProFootballTalk.com report. Of course, Joe wishes no pain for Bucs opponents off the football field.
Second, Joe's not sure why anyone would think Newton is a key to victory. Carolina already carved up the Bucs on opening day with backup QB Derek Anderson, the fourth best QB in the NFC South.
Regardless, Joe wishes Newton well. But Joe is not confident Newton will play Sunday. Car accidents like that commonly deliver serious pain and discomfort in the days immediately following the crash.