Blame For Seven Sacks Of Shame
December 22nd, 2014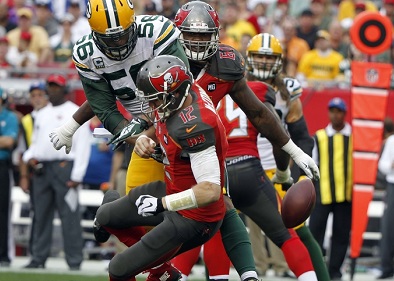 Josh McCown absorbed seven sacks by the Packers yesterday.
Joe was up for some pain and went back to the film of each one.
Here's how Joe assigned blame:
Sack 1  – Oneil Cousins, Logan Mankins and Demar Dotson led the group jailbreak. The Packers rushed five and the pocket collapsed on McCown from all angles.
(Side note: After Sack 1, a pass bat down came courtesy of Dotson getting eaten up.)
Sack 2 – Garrett Gilkey, in as the second tight end, gets gobbled up very quickly.
Sack 3 – Cousins bullrushed by Julius Peppers.
Sack 4 – Mankins can't slide over fast enough to slow down the stunt rusher in his gap. Charles Sims could have picked him but had started a route.
Sack 5 – Peppers rips past rookie Josh Allen, who was in at right guard. Ronde Barber called it "a mismatch of epic proportions."
Sack 6 – Four-man rush. Allen and Dietrich-Smith are beaten. McCown steps right into the pass rush stunt coming from the right defensive end.
Sack 7 – Patrick Omameh at right guard was badly bullrushed and knocked off balance. Dotston getting collapsed, not as badly, on opposite side.
One could argue McCown held the ball too long on Sack 4, but Joe can't hang that one all on McCown.
So there you have it. Joe considered typing up something on the trouble in the run game, but it really can be summed up simply: the Bucs are nowhere near physical enough.