"Whoever Did That? Don't Let Him Do It Again"
November 24th, 2014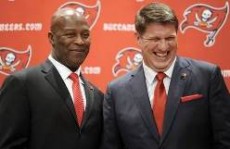 The Tampa Bay Buccaneers' offensive line reminds Joe of that screwed up batch of instant chocolate pudding that's been in the refrigerator for an hour.
Take it out and taste it, and it's kind of runny and each spoonful doesn't taste quite right.
That's the Bucs' O-line. It hasn't jelled and it's inconsistent. The more it's sampled, the more the recipe screwup is realized.
Joe detailed last night how the Bucs might have to dump every starter on the O-line, a rare occurrence.
A former Bucs starting right guard seems to think that's a must.
Ian Beckles (1990-1996) manned the WDAE-AM 620 microphone today and talked about how the Bucs have to start over on the O-line. He lamented eating contracts and wasted money, but he also was adamant the Bucs change their approach to revamping the line for the second consecutive season.
"Whoever did that? Don't let him do it again," Beckles barked, referring to whatever personnel man signed off on the Bucs' four new starting linemen.
And that begs the question, 'Who is responsible?'
When Lovie Smith was hired before general manager Jason Licht, much was made about Lovie's all-encompassing power in the front office. But Licht, months later, went out of his way to say he and Lovie — and the entire staff and front office — had total personnel consensus. Licht called that a harbinger of good things.
Joe's still waiting.
Joe still maintains the Logan Mankins trade was sound and appropriate. The Bucs were desperate, and Mankins was worth the gamble and Tampa Bay had the money to spend.
However, the Mankins trade was made necessary by the incompetence of 2014 free agents Oneil Cousins and Jamon Meredith, one of three Greg Schiano re-signees by Lovie and Licht (Meredith, Jonathan Casillas and Danny Gorrer.)
Joe's head hurts thinking about all this.