"They Ate"
November 25th, 2014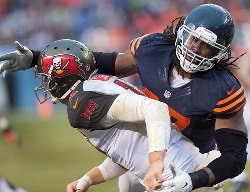 It was almost like two different games Sunday.
The Bucs thrashed the Bears and bratty Jay Cutler in the first half. In the second half? The Bears were wolves. Hungry wolves, in fact.
Bears safety Peanut Tillman, a Lovie Smith guy through and through, explained how Chicago coach Marc Trestman and defensive coordinator Mel Tucker went all "Coming to America" and lit into the Bears at halftime and unleashed the dogs.
To hear all of Tilman's comments about what moved the Bears to devour the Bucs in the second half, watch this CSN Chicago video below.