THE OPTIMIST: Changing The Shape
November 15th, 2014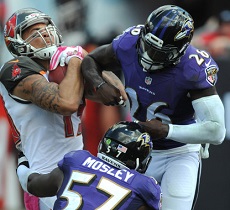 In these unsettled times of devastating Bucs losses, constant change and growing pains, Joe thought it would be wise to bring back THE OPTIMIST.
THE OPTIMIST is Nick Houllis, a Bucs fan and an accomplished writer whose steadfast allegiance to the Buccaneers goes back to the 1970s. Houllis is the founder, creator and guru of BucStop.com, a place Joe goes to get lost in time via Houllis' stunning video collection.
THE OPTIMIST will shine that positive light in your eyes. Some will love it. Some won't. … Of course, THE OPTIMIST's opinions are his alone and are not influenced by Joe.
The Bucs have had so many great defensive players it's hard to keep track; they're adding them to the Ring of Honor as fast as they can get into the Hall of Fame.
From the very first pick of the franchise in Lee Roy Selmon, defense was KING in Tampa Bay. First head coach John McKay brought his version of the 3-4 defense from the USC Trojans, and in no time it was successful.
Led by linebackers Richard "The Batman" Wood, safety Mark Cotney, corner Mike Washington and Lee Roy, the Bucs became the No.4 defense in their third year of existence.
And who could forget No.1 in 1979.
Evans, Seferian-Jenkins can drive change
Even in lean years, Tampa Bay has always been about defense. We've had so many stud linebackers on this team going back in time, there are too many to name! Cecil Johnson, Hugh Green, Scott Brantley, Eugene Marve (yes that Marve), Winston Moss, Broderick Thomas, and that's before the Bucs' glory years!
Now name well-known offensive players from Bucs past!
Quickly now!
Mike Alstott? Yes,  beast. James Wilder? Sure, that's two. But you have to struggle, especially for wide receivers.
The Bucs' first real stand out player on offense in Orange was tight end Jimmy Giles, their first Pro Bowl man on offense. And Captain impersonations aside, Austin Seferian-Jenkins really reminds me of old No. 88. He is big, teaming in size, and with speed too.
ASJ has been targeted 33 times and come down with the ball 18 times for 198 yards, which is an 11.0 average. Yes, he had that boneheaded penalty Sunday, and the fumble against the Vikings, and drops; rookies will make blunders. But you see real growth potential there. Giles came with Doug Williams in 1978, and really didn't hit his stride until the 1979 season.
Growth is a key word for young players, but it's not something required in large amounts for Bucs rookie wide receiver Mike Evans; who has the potential to finally be a franchise drafted WR for the Bucs, a star mentioned weekly on SportsCenter, the kind that gets you on Monday Night Football.
Consider Evans has little stability at the QB position, yet has almost 600 yards and is closing in on a 1,000-yard season in his rookie year, on one of the worst offenses.
He is carrying a 15.0 average and, more important, has five touchdowns. Most of this work has been in the last few games, and the catches are textbook toe-tapping variety that you really remember long after.
This latest draft of all offensive players has a chance to really change the shape of Tampa Bay, to finally deliver a quality offense one day that Bucs fans, even the defense, can be proud of.