"Strip" David Tries To Influence
November 12th, 2014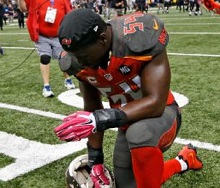 The power of suggestion has made its way into Tampa Bay's' pre-snap calls.
The Bucs are trying all kinds of angles to force turnovers. So far, it hasn't worked well at all.
Tampa Bay has forced just six fumbles this season. That ranks 24th in the NFL. They're also tied for 21st in interceptions.
Tonight, Gerald McCoy revealed that Lavonte David is issuing a new takeaway reminder to defensive players on every play. Speaking on Total Access on WDAE-AM 620 tonight, McCoy shared that David yells "strip" immediately before barking out the defensive play calls to his teammates.
McCoy said the "strip" preface is simply a way to reinforce the mindset, that the defense needs to be ball hunting and strip-hungry on every play.
Joe's hoping the Bucs turn things around in the turnovers department. If the Bucs finish the season in the bottom half of the league this season, then that would be a real head-scratcher. Greg Schiano's Bucs ranked third in interceptions and tied for ninth in forced fumbles last season.