Stop Rewriting History
November 13th, 2014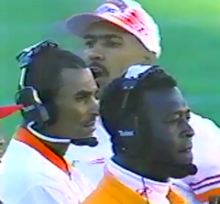 Hearing Gerald McCoy talk about patience today and reference how the Glory Days Buccaneers defense didn't mesh right away and took a while to get it right is driving Joe mad.
Stop rewriting history! Just stop it!
McCoy has dropped that kind of take before, but it's ludicrous at this point in the season. Joe was going to type up McCoy's quotes, but Joe is too grouchy. Listen to them yourself at Buccaneers.com.
When the 1996 Bucs moved their record to 1-8, it was a very different from the current debacle. Tampa Bay had allowed 13 points per game in each of its previous four games. That's right, four consecutive games of allowing 13 points.
They went on to be the NFL's 11th-ranked defense that season.
During Year 1 of the Lovie Smith regime in Chicago, — the same head coach the Bucs have now, for those not paying attention — those young Bears learned Tampa-2 defense quickly and jumped out to a 4-5 record. In seven of those nine games, that Bears team held opponents to 20 or fewer points. They finished ranked 13th in points allowed, despite a truly garbage offense.
Joe realizes Gerald McCoy is trying to answer questions, but Joe really sees McCoy making excuses for the Bucs defense, like it's somehow understandable that the defense is struggling to the level they are.
Father Dungy and Lovie didn't turn out anything close to as bad as the current Bucs during their inaugural seasons as head coach.
Neither are Mike Zimmer, Mike Pettine and others.