Ryan Mallett, Brian Hoyer & Jason Licht
November 13th, 2014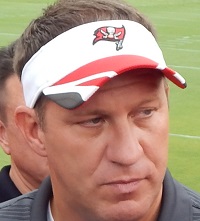 Yes, Joe's a Josh McCown denier.
Joe can't accept that a McCown return as the 2015 starter is in the best interest of Joe's beloved Buccaneers.
So what if the Bucs decide to go a different route at quarterback but not draft one with franchise potential?
It's rather interesting that two potentially hot QB names in free agency are Brian Hoyer of the Browns, and Ryan Mallett, who takes over the Texans' starting gig on Sunday.
Mallett, 26, was drafted by New England in the third-round back in 2011. He was traded to Houston on Aug. 31. Hoyer, 29, was Mallett's 2011 teammate in New England.
Bucs general manager Jason Licht was a top personnel chief under Bill Belicheat and was with the Pats when Mallett and Hoyer were in the house. Licht also was the Arizona Cardinals' director of pro personnel when Hoyer was acquired by Arizona in 2012.
Now Joe has no idea what Licht thinks of Hoyer and Mallett, but there certainly are a lot of connections and familiarity. Both players have been well respected at their various stops.
Joe certainly will have his eye on Hoyer and Mallett through this season. The Bucs have to do something to upgrade their quarterback situation next season. All options, at this point, should be on the table.