"Play 60 Really Hit Home For Us"
November 20th, 2014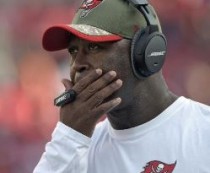 Lovie Smith did, in fact, say football doesn't really begin until November.
So maybe what made Joe cringe during yesterday's news conference should have been more expected.
Lovie was answering questions about the Buccaneers' decisive win in Washington and backhandedly said the Bucs played their first complete game.
"Play 60 really hit home for us," Lovie said.
Joe's immediate internal reaction was, 'What the hell took so long?'
Joe must learn from Lovie and not dwell in the past. So it took the Bucs 10 games to play 60 minutes, to take a lead and drive it home. History will look at that as no big deal — as long as the Bucs start playing with tremendous effort from start to finish and winning more than they lose. That's not too much to ask.