Miserable Offensive Line
November 27th, 2014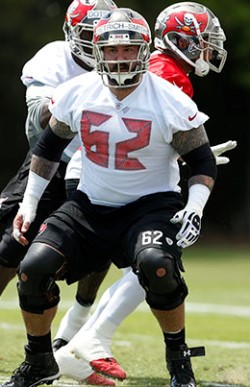 One would have thought that when Tampa Bay purged just about every capable offensive lineman from its roster last spring, that the concept was to improve, not to get your skilled position players maimed.
Joe wonders how four 2013 starters were tossed overboard, and all found a way to start and produce with other offensive lines — two for playoff-bound teams. Maybe Bucs overlord of football operations Lovie Smith was a bit too quick to pull the trigger?
Film guru Andy Benoit of theMMQB.com was in pain watching the Bucs block last week in Chicago.
Film: #Bucs OL arguably the worst in the league this year.

— Andy Benoit (@Andy_Benoit) November 26, 2014
Of course, hindsight is 20/20, but it didn't have to be.
Was Donald Penn so onerous that he couldn't have been kept? Jeremy Zuttah was that bad they couldn't keep him around? Davin Joseph was willing to take a massive paycut to stay with the Bucs. What would it have hurt to have him battle for a gig?
There is a reason why Anthony Collins was always a backup. There was a reason why Evan Dietrich-Smith wasn't re-signed.(Remember Joe's steadfast rule: stay away from a player Ted Thompson no longer wants when the price of keeping him is mere peanuts). Demar Dotson still does not remind Joe of Dan Dierdorf.
When the Bucs go to rebuild their roster in a few weeks, don't be shocked if they begin with the offensive line.
That was a whole lot of work and Team Glazer cash the Bucs went through last year to retool the line, with nothing to show for it.