Mike Evans: Rookie Of The Year?
November 18th, 2014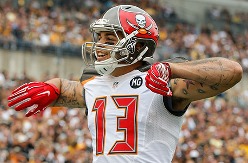 There are few things to like about this current Bucs season. It is almost like this franchise is cursed. All the lofty expectations for the club, and then — BAM! — the bottom falls out and the Bucs are in a race for the top overall pick. Nobody saw this coming.
Neither did anyone see how Bucs rookie wide receiver Mike Evans would blow up so quickly.
Oh, many expected Evans to be a force. That's why he was drafted so high. Generally, however, rookie wide receivers have a pedestrian rookie season before exploding later.
Not Evans. He currently is 10th in receiving yards. More than Dez Bryant, Randall Cobb, Steve Smith and Larry Fitzgerald.
That's pretty impressive. Evans has been so hot of late, that Allie LaForce-smitten, Big-Ten-Network-hating, pedestrian-bumping, olive oil-lapping, popcorn-munching, coffee-slurping, fried-chicken-eating, oatmeal-loving, circle-jerking, beer-chugging, cricket-watching, scone-loathing, college football-naïve, baseball box score-reading, NPR-listening, filthy-hotel-staying, fight-instigating, barista-training Peter King, of Sports Illustrated and NBC Sports fame rethinking who he will vote for in the NFL Rookie of the Year race.
This is going to be an extremely difficult Offensive Rookie of the Year vote. It would be hard to not pick Mike Evans right now, although after Week 10 my vote would have gone to John Brown of the Cardinals because of his three game-winning receptions in the fourth quarter for the team with football's best record. The last six weeks should provide a good ebb and flow in this race, and I agree with you—I don't remember one with this many good candidates.
Yeah, Brown is a helluva candidate. He's a main reason the Cardinals have the best record in the NFL. Hard not to pick a guy like that.
Still, Brown had (until recently) Carson Palmer for a quarterback. Evans had to learn the NFL ropes with turnover-prone Josh McCown and inconsistent Mike Glennon. Just a bit of a difference there.
To listen to Evans talk about his progress as a receiver, click the arrow below. Audio courtesy of Joe's friends at WDAE-AM 620.