Message For Knuckledraggers
November 3rd, 2014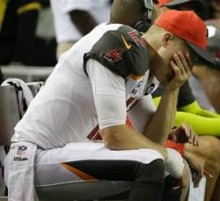 Joe just wants to wing a beer bottle against the wall he gets so p!ssed off when he hears Bucs fans whine about the evils of having a good quarterback.
Joe swears too many Bucs fans would be be happy with no quarterback on the roster, just another running back to hand the ball to.
"Defense wins championships," they coo as they hug their teddy bears tight, and plant their thumbs firmly in mouth while gazing dreamily at their Fathead poster of Father Dungy.
Bullspit! We live in 2014, folks.
Want to know how badly the Bucs need offense, and how having a rotten offense dooms a team? Consider the following information from the "Custodian of Canton," eye-RAH! Kaufman of the Tampa Tribune.
Tampa Bay has lost the past 17 times it allowed its opponent to score first.
What. The. Eff!
You know what this tells Joe: The Bucs cannot climb out of a hole because they don't have an offense. Haven't had one since 2012, when the Bucs had a franchise quarterback (pre-mental).
So for you knuckledraggers who dismiss offense and think you can win on defense alone, how you liking your Bucs the past few years?
Lovie Smith says he is a stats guy. Hope he reads those stats.