McCown Names Leaders
November 19th, 2014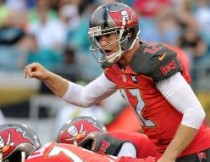 So what Buccaneers did Josh McCown reference as big-time team leaders yesterday on his radio show?
Joe always loves when players serve up names instead of generalizations.
(First, let Joe say he loves Total Access on the Buccaneers Radio Network. Kudos to the team for investing six hours a week for fans to get to know players and coaches. What a valuable media resource, as well.)
In a chat with host TJ Rives, McCown sounded emotional (not crying) and named the following players when talking about team leaders: Logan Mankins, Dietrich-Smith, Vincent Jackson, Clinton McDonald and Dashon Goldson.
Joe's not saying there aren't more, but those are the guys McCown chose to reference.
On Mankins, McCown called watching him practice "inspiring. It's encouraging. It's what you want to see."
McCown stressed that all those guys have different leadership styles but all are effective.
"The fact that everybody's heart is in line with giving back to the young guys and helping them develop, that's what's going to help us be successful," McCown said.
Feel free to — or not to — read between the lines.
Joe knows many think Dashon "Hawk" Goldson is dead player walking, and a guy going through the motions while collecting a fat paycheck, but that's not the case. Joe will bring more on that later today.