Mark Barron Arrives For Lambs
November 10th, 2014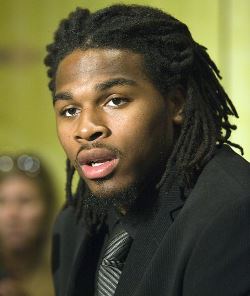 Leading 14-10 in the fourth quarter yesterday, the Lambs defense melted down losing 31-14 on the road to Arizona. It was a Bucs-like loss for Lambs coach Jeff Fisher.
The loss may have been ugly, but it seems, based on one game, Fisher may have gotten a win over Bucs overlord of football operations Lovie Smith.
Recently, the Bucs traded bust first round pick safety Mark Barron to the Lambs for a warm Budweiser and side order of toasted ravioli. The Bucs were happy they found someone to take Barron's salary off of Team Glazer's books.
Well, Barron in Arizona had perhaps his best game since his rookie season. He had five tackles and a sack of Cardinals quarterback Carson Palmer that likely ended his season with a knee injury.
Funny, in just Barron's second game with St. Louis, Lambs coach Jeff Fisher, a defensive guy, found a way to use Barron's talents. Here in Tampa Bay, it appears Lovie tries to force square pegs into round holes.
Former NFL scouting director Louis Riddick had the following to say about Barron's play with Fisher.
When you play Mark Barron where he belongs, he doesn't look so bad huh?

— Louis Riddick (@LRiddickESPN) November 9, 2014