Lovie's Empty Rhetoric
November 6th, 2014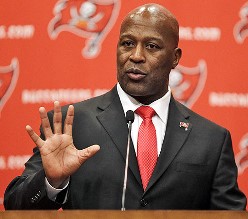 Joe's head was dizzy yesterday listening to and reading the words from Bucs coach and overlord of football operations Lovie Smith. To be polite. none of it made a lick of sense.
Mike Glennon was "great" but he is benched. Lovie wouldn't answer when asked if he would have been benched if Glennon played like Tom Brady. Glennon is the still the darling of Lovie's eyes, the quarterback of the future, and quarterback of the past but not quarterback of the present.
Frankly, Joe hopes, for Lovie's own sake, Lovie either visits a shrink or a parish priest. He was trying to pull the wool over people's eyes, namely the ticket-buying public. Reading and hearing Lovie's (ahem) unique (again, Joe is trying to be polite) statements outraged ornery Alan Dell of the Bradenton Herald.
The Bucs don't need an offensive coordinator. They need an expert on quantum theories, dark matter and the possibility that we live in essentially a temporal universe where time is an abstraction.

Betcha Glennon would understand that, though it would be disheartening. In that theory, he is not quarterback of the past, present or future because in reality they don't exist. It was easier to hear Raheem Morris tell us stats are for losers.

So what is left for Glennon? He could be placed in a time capsule, shot into space and retrieved when Smith decides what to do at quarterback.
Joe really thinks the Bucs franchise has reached its lowest point since this site launched six years ago. Yes, former Bucs commander Greg Schiano had an awful season last year, but Lovie didn't have a franchise quarterback go mental and his locker room poisoned by the MRSA, and he doesn't have have former Bucs players in local and national media screaming at him from all corners on a daily basis.
Like Lovie, Schiano thought Glennon was the quarterback of the future. Schiano didn't play mind games with the kid jerking him in and out of the lineup while claiming publicly he is the savior of the franchise.