Lovie's Confidence Rating Surges To 59%
November 19th, 2014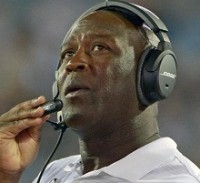 What a difference a decisive win makes.
"Simple as that," as Lovie Smith likes to say.
Zogby-like polling of JoeBucsFan.com readers yesterday saw a shift in various opinion analytics on the head coach.
After stabilizing with a confidence rating of 32 percent for two consecutive weeks, readers elevated their opinion of Lovie over the past 24 hours.
Here is the fresh voting data:
Totally confident: 5.95 percent
Very confident:    12.81 percent
Confident:            40.25 percent
Little confidence: 31.24 percent
No confidence:       9.75 percent
The number of fans voting "confident" doubled from last week, so Lovie sure helped legions of Bucs lovers get a good nights of sleep since the Washington beating.
Peace has been restored temporarily. Pitchforks and riot plans have been tossed in closets across the Tampa Bay area, though Joe suspects they haven't been tossed in the trash yet.