Lovie Downplays Return To Chicago
November 20th, 2014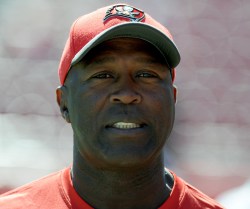 At first it was jarring to hear. But research proved it correct. Bears linebacker Lance Briggs, who was close to Lovie Smith when the current Bucs coach led the Bears, noted in a teleconference call with the local pen and mic club yesterday that Lovie was the third-best coach in Bears history.
Briggs was spot-on.
Of course, Bears patriarch and founder George Halas coached Chicago for something like 148 years. Since Halas retired from coaching after the 1967 season, there have been but two Bears coaches with winning records. They are the only coaches who guided the Bears to a Super Bowl: Mike Ditka and Lovie.
When asked about returning to Chicago in his daily press conference Wednesday, Lovie did his best to deflect any attention. He stated, in several ways, the game is about the Bucs trying to put together a winning streak, not facing the team that fired him not quite two years ago for the gall to win 10 games.
"My memories of my time in Chicago are all great memories," Lovie said. "I have lifetime friends from Chicago that will always be a part of our family. You talk about the opportunity I was given by the McCaskey family. It was all good memories. I don't have many bad memories on any place I've ever been. We spent a lot of time there. Still have homes there. Need to buy one? No, but my wife is from Chicago and there's nothing but fond memories from that time there. It's a part of my past. But a part of my past that I will always cherish.

"I have a lot of fond memories. We won a lot of games – that's what I remember. The fans there were awesome when we were winning all those games. So that's my recollection. Again, the year I was off, really got to know some of them in a whole different light. So again, my time in Chicago, it's nothing negative about my time there, and that includes fans – I don't have anything but fond memories of my time there. Of course, the fans were a part of that.

"I have relationships each Sunday with someone. This past week, I knew about three of those guys personally. Week before that, it was kind of the same thing. Again, I have friends everywhere. Definitely have some friends [in Chicago]. But again, it's about a football game and us trying to get a win."
Of course, Lovie will never say it; will never admit it. But deep down inside, if he and the Bucs could pull off a win against the Bears, then he would savor the moment. That's just human nature.
It's hard for Joe to believe Lovie never felt jilted in some way by losing his job despite winning 10 games — by being shown the door by a man Lovie gave a thumbs-up to the McCaskey family to hire just a year prior.
To hear more from Lovie, click the arrow below. Audio courtesy of Joe's friends at WDAE-AM 620.