Last Year's Josh McCown Showed Up
November 16th, 2014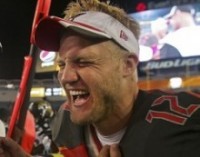 Keep crying, Josh McCown. It's paying off.
The Buccaneers' re-starting quarterback was strong in Washington today. Despite a running game that's just a rumor, and a variety of blitzes coming his way, McCown played a calm, efficient game and nailed his deep shots.
It was the McC0wn we were supposed to see on opening day, and in Week 2, and in Week 3, and last week. It was the McCown that was 3-2 as a starter for the Bears last season.
McCown finished the day 15-for-23 for 288 yards and two touchdowns. Even better, he didn't throw an interception, though he definitely tossed a couple of ill-advised passes but they didn't burn him.
So now what? McCown has chemistry cooking with Mike Evans and is moving the football the past two weeks.
It's a very welcome change, but can McCown-Marcus Arroyo lead the Bucs to a Super Bowl one day? Joe isn't that intoxicated by today's decisive road win.
But if McCown keeps playing the football Lovie Smith brought him here to play, then Joe is convinced McCown will be the starter on opening day next season.