Josh McCown Played Santa
November 24th, 2014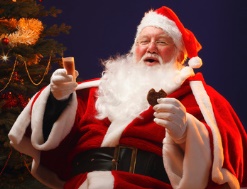 Joe thought the Bucs were in perfect shape yesterday. Playing on the road in rainy, chilly Soldier Field right on the banks of icy Lake Michigan, shutting out the Bears at halftime, well, Joe felt good about the game.
And then came the second half.
It was ugly. The defense got hung out to dry and Josh McCown, in his return to the Second City, demonstrated why paying a boatload of cash to bratty Jay Cutler was a smarter move then keeping a journeyman backup who offers nothing more than false hope.
Then, with the Bears rolling back to take a 21-10 lead, even though it is a couple of days before Thanksgiving, McCown decided to play Santa Claus, types veteran columnist Gary Shelton.
Perhaps he wanted to be good in front of a Chicago crowd that cheered for him. Perhaps the rainy weather got the better of him. For whatever reason, this was not one of those weeks where you look at McCown and see his intangibles. This was a week you looked and saw his shortcomings.

The shame of it was the size of the opportunity the Bucs gave away. Had they been able to win their second straight straight game, it would have been easy to envision them succeeding in this wacky NFC South. Instead, the Bucs remain the bottom dwellers of football's most comedian division.

Even in the first half, when the Bucs' had so many receivers running free in the Chicago secondary that you would swore they knew shortcuts, McCown seemed hurried and scattered. Otherwise, the Bucs may have led even more than 10-0. After all, they dominated that first half more than they have dominated any all season. A big lead was there for the taking.
Shelton nailed it. Whenever McCown presses, he goes full-blown Pop Warner quarterback and demonstrates why he has been a career journeyman.
And until otherwise corrected, it doesn't matter how well the defense plays. Subpar is subpar.