Johnthan Banks Brought His A-Game
November 4th, 2014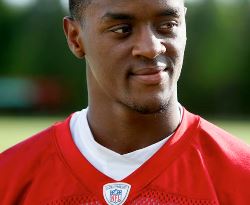 Joe has been riding the Johnthan Banks train ever since, with Darrelle Revis injured, Banks was re-assigned to cover Calvin Johnson and locked him up.
Now on his seventh different defensive coordinator in as many years (high school, four different coordinators in college and two in the NFL), Banks seems to have learned Lovie's defense quicker than a veteran like Alterraun Verner.
It showed Sunday, as Banks was all over the field, making a nice pick and laying the wood to people. It was impressive. And it seems the spreadsheeters paying attention. Sam Monson of Pro Football Focus believes Banks may have played his best game in Cleveland.
Johnthan Banks, CB, +3.1

Breakdown: This might be the best game of Johnthan Banks' young career. The 2013 second round draft pick has had plenty of struggles but was always supposed to be a talented prospect, this was the game we saw that promise fulfilled, at least for sixty minutes.

Signature Stat: Was thrown at six times and allowed a passer rating of just 5.6 on those targets.
Passer rating, pppfffttt. Maybe the most useless of all useless stats.
Regardless, Joe didn't need a calculator to tell him Banks played a helluva game.
The sad thing is, all the while Banks was playing yesterday, Joe just couldn't get it out of his head how Bucs coach Lovie Smith did everything in his power to ensure that slug Mike Jenkins started over Banks until Lovie couldn't try anything more when Jenkins went on the injured reserve list.