Jameis Watch: The Better QB?
November 3rd, 2014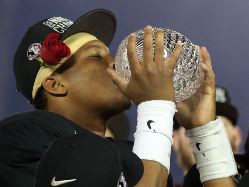 Crab-legs-stealing, BB-gun-shooting, obscenity-hollering, Heisman-Trophy-winning, national champion James Winston, the pride of Florida State University, continues to look like a much better quarterback prospect than Mike Glennon and Josh McCown.
It's Joe's regular nugget on the Jameis Watch, celebrating the best quarterback to wear No. 5 ever in the state of Florida.
Joe is truly torn between who he would pick: Florida State uber quarterback Jameis Winston or Oregon's running, scrambling Marcus Mariota.
The two guys are as polar opposite as they get.
Winston is without question the most polished pro-style quarterback in college football. Whoever may be No. 2 is a far, far, far distant second. His accuracy is just sick. Winston threads needles that for 98 percent of quarterbacks would be pick-sixes.
But with Winston, you get the full package. As advanced as he is on the football field, as much of a leader he is with the team, he is the opposite off the field. Even Bobby Bowden, who rarely if ever has a cross word about someone, slammed Winston in a recent radio interview for having the mentality of a grade school student.
Mariota is a posterchild off the field. On the field, he is excellent at what he does, but that rarely translates into an NFL star quarterback. The few quarterbacks who excelled at spread option offenses took years to master the NFL game. Alex Smith springs to mind.
Could Mariota ever develop into an NFL star, and would Bucs overlord of football operations Lovie Smith have the balls to select a guy that likely won't turn the corner until after Lovie is gone?
Then again, you won't be lying awake through the night waiting on an ugly phone call from your team's security chief about some hassle Mariota got himself in.
Winston? Clutch. A champion. yet, a problem child away from football. Mariota? A winner who is not clutch but a champion in life.
What is an NFL guy to do?
Daniel Jeremiah, a former NFL scout who works for NFL.com, decided to break down the pros and cons of both Jameis and Mariota.
When teams compare those guys, they'll go down a checklist of traits. They're very different players. As a pocket passer, Winston's more refined. In terms of athletic ability, give the edge to Mariota because of his ability to make plays with his legs. Character-wise, Mariota has a big edge — there will be a lot of digging into Winston's background, and his off-field issues are well documented. Mariota earns rave reviews when it comes to character.

I think the team that drafts Mariota has to commit to using him as a runner and not just a pure pocket passer. That's a big part of the reason why he's compared to NFL QBs like Colin Kaepernick and Russell Wilson.

Now, Winston is coming off arguably the worst half of football in his college career. He struggled mightily before showing what he's capable of in the second half as he led FSU back to beat Louisville. As far as playing from the pocket and delivering the ball accurately, I think Winston is further along in his development than Mariota.
If Lovie thinks he has years of job security, Mariota might be the guy and one would have to be patient.
If Lovie thinks he needs a quick turnaround, it may be Jameis. The Bucs would just need to hire him a 24/7 security guard.