Jameis Watch: Just Say No To Moss
November 18th, 2014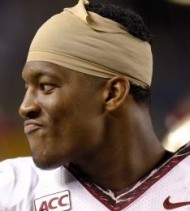 Crab-legs-stealing, BB-gun-shooting, obscenity-hollering, Heisman-Trophy-winning, national champion James Winston, the pride of Florida State University, continues to look like a much better quarterback prospect than Mike Glennon and Josh McCown.
It's Joe's regular nugget on the Jameis Watch, celebrating the best quarterback to wear No. 5 ever in the state of Florida.
Now here's a funny one. Legendary future Hall of Fame wide receiver Randy Moss, now a FOX Sports 1 analyst, is offering up mentoring services to Jameis Winston.
Man, Moss has one heck of a checkered past to be serving as a life counselor. But that's what Moss wants to do for Winston, via NFL.com.
"He's still a young man. You have the people from the National Football League, and he's still on the baseball field, too. So there are a lot of professional people who are really looking at him, and seeing if he can come and lead a professional team," Moss said on Fox Sports. "(It's) the 'no' people. He needs the 'no' people in his camp. Sometimes people get in your life for the wrong reasons. I'll say to Jameis … If you need someone, reach out to me. We've both been in a similar situation where we've had people coming down on us. Feel free to get up with me."
Don't do it, Jameis! Heck, a strong connection to Moss might even hurt Winston's draft stock. As the NFL.com article noted, Winston already has Johnny Football looking out for him.
Joe's judgment on Moss is somewhat colored by Moss blowing off Joe verbally and with a stare of hate at Super Bowl Media Day.
Keep in mind, Media Day is a day dedicated for the media to, you know, ask questions. But Moss was too busy standing and staring into space while he waited for a some hottie FOX intern to tell him he'd be on the air in 10 minutes.