Hawk Radio Highlights
November 7th, 2014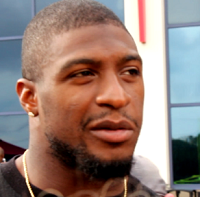 The most chill hour of radio in Bucs history was back on the WDAE-AM 620 airwaves last night, Total Access with Bucs safety Dashon Goldson and Ronnie Lane, aka Hawk Radio.
Again, the show felt like a couple of cats kickin' it with some top-shelf brandy and talking football as they awaited a knock from classy ladies on their door.
Joe's got the highlights:
*Hawk's health isn't there yet. He's been doing extra running on his day off to get his wind back. But Hawk's wants it clear he's not making excuses. "Don't get it twisted. I don't feel right. I know I'm not right. But I'm going to get there. Please believe it."
*Film don't lie, says Hawk. "It's just not going how it's supposed to. And it shows week in and week out."
*Defensive improvement is obvious, especially over the past two weeks, Hawk says. "We just gotta finish games at the end of the day. … That's the part that's been killing us, the finish part."
*Major Wright is not as fast or physical as Mark Barron but smarts are his great strength.
*On the Browns' game-winning touchdown Taylor Gabriel, Hawk said Alterraun Verner simply lost track of his man.
*As Joe wrote earlier, Hawk wasn't on the same page when it came to Gerald McCoy calling out his teammates.
*Hawk said it took years to play as a team in San Francisco before things kicked in and they were in the Super Bowl.
*Hawk says Lovie is all business outside of cracking a joke here or there. Referring to Jim Harbaugh in San Francisco, Goldson said his old coach was a little more "amped up," sometimes even coming into the locker com and playing a little defense in games of locker room basketball.
*A "show-and-tell" session at a Bucs position meeting featured Hawk bringing in some of his high school game film to impress his teammates.
*Hawk revealed "I cried" when he went to junior college in rural Kansas, a massive "culture change" for a kid who only lived in L.A. and occasionally visited family in New York City. He explained academics drove him to junior college, where he straightened out. "I was always in class, doing tutor sessions."
*Mark Barron calling the Bucs' defense "passive" for him as a safety was not a comment Hawk was down with. Hawk speculated Barron was used to such different approaches at Alabama and under Greg Schiano.
*Bucs have to stand tall Sunday against a division opponent: "They can't come into our backyard, kicking our balls around jumping in our pool, you know what I'm saying," Hawk said.