Grading The Bucs
November 5th, 2014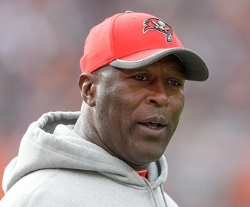 Sometimes, Joe gets a surprise in the wee hours of the morning while working on this here corner of the interwebs. No, it's not Rachel Watson ringing Joe's doorbell looking for warmth and consoling.
But Colleen Wolfe is a surprise. While doing research on the Bucs, Joe came across this lass grading Tampa Bay after their eighth game of the season along with someone named Eliot Harrison.
In short, the duo referred to benched starting quarterback Mike Glennon as "a mixed bag," seemed to like the Bucs defense, and you may not want to hear what they had to say about third-down efficiency.
At worst, you can gawk at Ms. Wolfe.