"GM Malpractice"
November 5th, 2014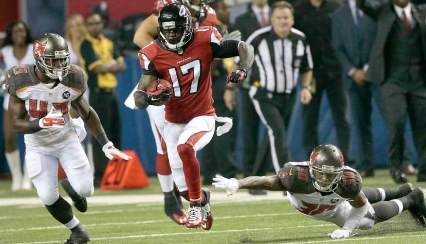 Fans love to circle games on the Buccaneers' schedule that should be won.
Man, the Bucs sure looked better on paper than 1-7 a couple of months ago.
So did the Falcons.
Atlanta comes to Tampa reeling in a huge way with a 2-6 record. They've choked away games. They can't shake the soft label. And they're winless since absolutely clobbering the Bucs on Sept. 18, a beating Joe sadly witnessed in person. (And you wonder why Joe has addiction issues?)
Throw in that Falcons head coach Mike Smith is on a very public hot seat, and the Falcons are a mess.
This is a team that should be circled on the schedule. The Bucs have to win this game at home, right? Against a garbage opponent?
Today on WDAE-AM 620, former Falcons offensive linemen Jamie Dukes, a regular voice on NFL Network, talked about just how truly awful the Falcons are.
Dukes even took it beyond the team and coach to the front office. He said there is "GM malpractice" going on, since the Falcons are content with their bad players and don't even workout potential prospects on Mondays like most teams do.
Dukes explained that despite their preseason calls for toughness, the Falcons are content to have too many nice guys that can't play, though Dukes was clear that Matt Ryan, wide receivers Roddy White, Julio Jones, Harry Douglas and Devin Hester are the real deal.
Are the Falcons circled on your schedule?