Former Bucs Receiver Says Evans Is MVP
November 3rd, 2014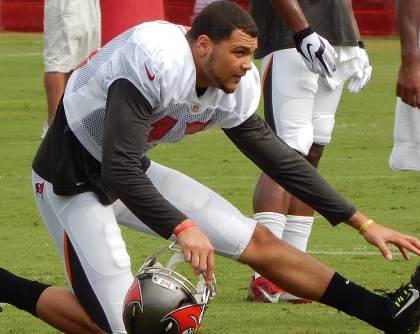 The Bucs have had forgettable and/or notorious wide receivers drafted in the first and seconds rounds of the NFL Draft.
Joe won't torture you this afternoon with all the names or nicknames ("blocking icon" and "scaredy cat" come to mind).
One of those disappointing picks was former Gators great Reidel Anthony, a first-rounder (16th overall) of Tampa Bay in 1997.
Anthony coaches high school football and trains receivers and said this morning that rookie Mike Evans is his Bucs "MVP" for the first half of 2014.
Anthony talked about how Evans has had to make more than the typical amount of adjustments and has adapted quickly and thoroughly.
"Coming from Texas A&M, he lined up on the right side of the ball. Now that he has to go either side, it just took him a while to see the ball from different angles," Anthony said on WHFS-FM today.
Evans has been extraordinary, and his stats would show it if "cannon" Mike Glennon didn't underthrow him repeatedly.
In addition to what Anthony mentioned, Evans is adjusting to a pro-style offense, as well as routes over the middle, where Glennon couldn't find him open yesterday in the red zone.