Doug Martin Sinks Deeper
November 23rd, 2014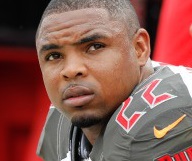 Today's starting running back, Doug Martin, entered the Bucs-Bears mess averaging 2.9 yards per carry.
That paltry number has fallen.
Martin had 11 carries for 27 yards against a weak Bears defense. Outside of a strong, 10-yard run and a hard five-yard scamper, Martin was dreadful with the ball.
Martin's one reception revealed nice awareness of the first-down marker, but his pass blocking was suspect.
Sadly, there's just no reason to believe Martin has what it takes.
Typing this, Joe feels like he's writing a eulogy. Martin has become a pretty lifeless running back with everything to prove.
Yes, Martin returned today after about a month away from game action because of an ankle injury, yet Lovie Smith made him the feature back? That was odd.
Martin's demise is only a little more upsetting than Bobby Rainey appearing to be a better player than Martin but getting denied opportunities. Rainey, the Bucs' leading rusher, had just one carry today for three yards but caught four balls for 18 yards.
Yes, the Bucs have miserable run blocking. But they may not have a starting-caliber running back, either. The latter would have been an impossible thought in August.