Chucky Back In Coaching Mode
November 26th, 2014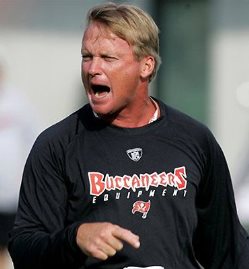 The world's greatest coach, who just loves football and loves to talk football but doesn't want to coach football, is back at it.
Chucky participated in a promotional video for GoPro to show how much the video camera can help high school football programs.
Naturally, Chucky broke out his fired football coaches schtick as if he is some martyr. This drives Joe nuts. Get over it, Chucky.
You have a good job and are paid handsomely to work maybe three days a week, tops, for 20 weeks a year. You have more free time than teachers.
Look, Paul Brown and Tom Landry and Don Shula also were fired. You aren't either of the three, so chill out. Enjoy life. And be careful jacking up a high school player's head during practice.