Barber Says Vikings Have Old School Bucs Feel
November 5th, 2014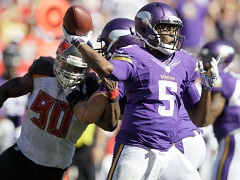 Joe literally wrote about 679 times this offseason that the Bucs must do what they have to do in order to draft Johnny Football or Teddy Bridgewater.
Call Joe a freak show, but a brand new regime with a quarterbacks guru offensive coordinator in the house sure seemed like a darn good time to draft and develop a QB.
So with that in mind, it made Joe somewhat ill to hear Bucs icon Ronde Barber speak this week about Bridgewater.
Barber has moved up the ranks as a game color analyst for FOX, and he's busy calling games and diving into film study. Barber studied Bridgewater and the Vikings under first-year head coach Mike Zimmer, and it makes him feel like he's seeing the throwback Buccaneers.
"If you've never met Teddy, Teddy is like this old soul in a 21-year-old's body," Barber said on national CBS Radio . "Nothing's too big for him. So whether he's playing well or whether he's playing poorly, he's a calming influence. There was nothing really major that happened in the second half of that [Vikings-Redskins] game other than him making a couple more throws and then (Minnesota) getting some stops on defense.

"That team is built kind of like the team that I played on for years. You're not going to get many explosive plays because Teddy's not very good delivering the ball down the field on deep shots, but when their defense plays well, Teddy plays well – and that was the case on Sunday. If you were watching that game, it felt like Washington was going to run away with it but then they just got methodically back into it."
In that Skins game, Minnesota scored two, clock-eating fourth-quarter touchdowns, a 10-play, 76-yard drive and a 12-play, 73-yard drive.
Entering this season, two NFC teams had great need at quarterback: the Vikings and Buccaneers.
The Vikings attacked the position by trading their second- and fourth-round picks to move up and in last year's draft to grab Bridgewater. The Bucs signed Josh McCown in free agency.
This doesn't help Joe sleep at night.