"About 10 Days Ago, I Couldn't Really Even Stand On My Toes"
November 15th, 2014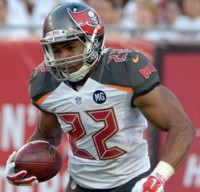 It's been 20 days since Doug Martin was on the field, struggling for 27 yards on 10 carries against the Vikings.
Martin walked off with an ankle injury. His last 100-yard game was against New Orleans in September 2013.
This week, Martin returned to practice, but he won't play Sunday. The ankle isn't ready.  Speaking on his Total Access radio show last night on WDAE-AM 620, Martin said he hopes to be ready a week from Sunday.
"A lot better. No doubt. About 10 days ago, I couldn't really even stand on my toes, walk on my toes," Martin said. "But today I'm doing all that. It's getting better. Today I had to walk about 10 feet on my toes and walk back on my heels. [Trainers] are the professionals. They know what they're doing."
Martin went on to say he ran some routes this week and went through cone drills, and other stuff.
It's been a daily 7 a.m. grind for Martin to get healthy, he said, a rehab routine at One Buc Palace that started the morning after he got hurt.
The Bucs rarely detail a player's injury. So Martin's words last night explain, in part, why he wasn't traded. The guy couldn't walk the day before the trade deadline.
Martin's future is unclear. He's set to earn about $1.5 million (non-guaranteed) next season, which isn't exactly a load of cash. And that's a reasonable price for a talented running back to compete for playing time.
It'll be interesting to see what Martin does with whatever carries he gets as this season closes out.
A couple of things Joe's brain keeps getting stuck on: last year, when there was so much moaning about the Bucs' offensive line, Martin backups Bobby Rainey and Mike James managed to have huge games on the ground. Rainey also proved better than Martin this season. Martin just isn't the player he once was.