Watch Josh McCown Throw
October 20th, 2014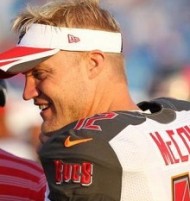 Joe's got video of Josh McCown!
Yes, it might make the Mike Glennon Mob seek counseling, but it was the big deal at practice today.
McCown was sharp during the session open to media. And Lovie Smith later said McCown had a good day throwing the ball for 90 minutes.
Of course, Lovie seems disinterested in quashing any quarterback controversy and going all-in with Glennon or McCown.
Here's the video, via Jenna Laine of SportsTalkFlorida.com.