V-Jax Talks Quarterbacks, Wrist, Trades
October 23rd, 2014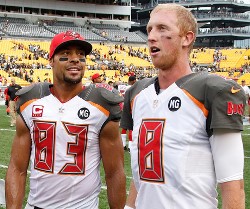 Vincent Jackson stood before Joe and the Tampa Bay media in the locker room this afternoon and touches on various topics.
Of course, Jackson played the role of loyal captain.
Here are some highlights:
On whether QB situation is a distraction: It hasn't been. You know, obviously, we're just going to go with who's healthy, who's playing good ball. And both guys obviously very talented, very capable, and have success in this league. Coaches make those decisions. As players, we're not concerned about it. We know that whoever's at the helm, we're going to go out there and we're going to be successful.
On NFL.com rumors of him being a trade target: I'm happy here in Tampa. You know what I mean,  I've heard nothing here that would suggest I'm going anywhere. Just going to let that pass on and keep doing my job.
On the health of his wrist: You know, it's something that's just going to probably nage throughout the rest of the season. But I would say 95 percent of the guys in the NFL probably have something that doesn't feel quite right and that's obviously a pain to them. So I'm going to deal with it.
On his injured ribs: I won't say too much about them. I'm managing.