The Rotten Defense
October 14th, 2014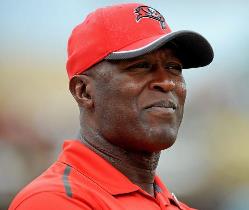 A thing that irks Joe is that the Bucs are  led by someone and built by the same fellow who is believed to be a defensive wizard. The man's name is Lovie Smith.
Make no mistake: Lovie oversees all football transactions. A player is not signed; a player is not traded for without Lovie's stamp of approval.
So watching teams march up and down the field on the Bucs defense as if the Bucs are 11 glorified tackling dummies is jarring to the system. How bad it is? Let's let the "Custodian of Canton," eye-RAH! Kaufman of the Tampa Tribune, explain.
The Bucs are on pace to give up 544 points this season, which would be the most in the 95-year history of the National Football League

— Ira Kaufman (@IKaufmanTBO) October 13, 2014
Let that sink in for a moment: The Bucs are on pace to have the worst defense in the 95-year history of the NFL — not just Bucs history, but the history of the NFL.
Nope. Nothing broken here. Stay the course.