Stop The 1996 Talk Immediately
October 12th, 2014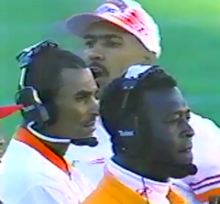 Joe's going to blow a freaking gasket if he hears one more reference to this Bucs team under Lovie Smith being like the Buccaneers of 1996 under Father Dungy.
It's an insult at this point, in addition to being a stupid take.
Get out of fantasy land, and jump into reality.
Dungy was a rookie head coach with a bunch of young coaches and a roster without a load of established talent, including a garbage 24-year-old quarterback. But that team only allowed 23 points a game through their first six games en route to a 1-5 record, before breaking out to win five out of their last 10 and finish with the No. 8-ranked defense.
Your current Bucs have a veteran head coach, along with veteran defensive coaches and established defensive stars, but they're getting worse in a win-now league that doesn't believe in three-year plans and doesn't forgive heartless play.
Lovie and general manager Jason Licht talked this offseason about how it wasn't fair to expect patience from fans. Joe agreed. However, some patience is reasonable. But there is no reason to be patient with what was witnessed today, and for a defense that clearly doesn't know what it's doing.
Last week, Bucs icon Derrick Brooks, in addition to Dashon Goldson, insisted the Bucs' defense is so "close" to understanding the nuances of their new scheme and close to being successful.
Again, this isn't '96. The Bucs' defense is far off the mark, and Joe's not going to duped into believing otherwise until there's real change on the field.