Stock Down!
October 28th, 2014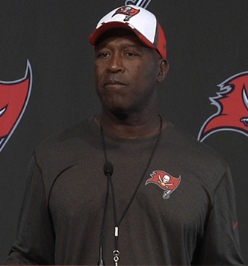 Sunday was painful. Joe honestly cannot remember at any time he went to an NFL game and wished he wasn't there. Except last year when Joe got roped by friends to go to a Jags-Lambs game. Sober no less! Joe even had to drive.
One point in the first half Sunday was like watching a couple of old ladies hitting themselves with handbags in an argument over stitching or some such thing.
It was really painful to watch, not to mention the allergy medicine Joe took nearly put him to sleep. It was like driving with a terrible hangover, sans the pounding head.
The Bucs are 1-6 and a victory seems far, far away. So it comes as no surprise that Nick Kostos, executive producer of "Schein on Sports," heard on Mad Dog Radio, one of the family of sports channels heard exclusively on SiriusXM Radio, in his weekly NFL column for Bleacher Report, has the Bucs listed as "Stock Down."
It's comical to think that some (including the moron writing this) believed the 2014 Tampa Bay Buccaneers could qualify for the postseason. The 1-6 Buccaneers have been downright dreadful, especially on defense, as they're allowing nearly 32 points per game. When a defense predicated on the Cover 2 scheme cannot rush the opposing passer (the Bucs have recorded only 10 sacks), it has no chance of being effective.

The hand-picked quarterback of coach Lovie Smith and general manager Jason Licht, Josh McCown, was abysmal in three starts, leading to second-year passer Mike Glennon being installed as the starter. While Glennon has been better than McCown, the Bucs are just a bad football team all the way around.

Sunday's loss to the Vikings encapsulated what's been a horrid season, with a late-game collapse followed by an inexplicable turnover when it mattered the most. The 2014 campaign, which was once filled with so much promise, now appears to be a lost season for Smith and the Buccaneers.
How bad are the Bucs? Former local sports radio personality Bobby Fenton Twittered last night that if the Bucs traded any player currently on the roster except for Gerald McCoy, Lavonte David, Mike Evans and Austin Seferian-Jenkins, he wouldn't lose a wink of sleep.
Joe thinks that'a a pretty fair assessment. Sad, but true.