"Sounds Like A Weak Answer"
October 4th, 2014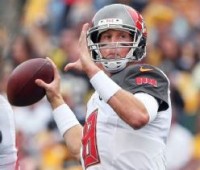 Mike Glennon knows his role as a backup turned starter who is not allowed to talk like a No. 1 quarterback yet because his head coach won't give him the job.
Glennon even knows how to respond like a guy who should speak like a No. 2.
Here was a Glennon exchange with the New Orleans media this week, via the Saints official website.
Reporter: How have you dealt with being the starter last year, having Josh McCown come in and now you are the starter again? How have you dealt with all of this and what is your mindset going forward as Josh will eventually be healthy again?

Glennon: "Take it one week at a time. It sounds like a weak answer but that's really the case, especially in the NFL. You just have to take it one week at a time, focus on the game at hand, and move on to the next one. Right now our focus is on the Saints."
Yes, Mike, it is a "weak answer." Joe hopes Glennon officially will get Lovie's blessing soon and, therefore, feel free to talk and act like the true leader of the Buccaneers. End the Josh McCown Experience already. There's no point.