"Snatches The Life Out Of You"
October 12th, 2014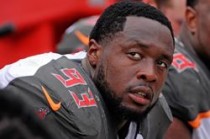 That alleged built-in home field advantage held by the Buccaneers hasn't showed up in a long time.
But Gerald McCoy is convinced it will matter today.
Yes, the Bucs are used to playing in the summer swelter of Tampa. That's supposed to be an edge for the home team in the summer, especially against teams from the north. McCoy says it could be more of a benefit this time of year.
The Weather Channel says the kickoff, "feels-like" temperature should be 89 degrees, going up to 90 before halftime while the sun bakes the field all day.
"Baltimore coming down here for the weather that's up there, not the same. The weather here, the sun is just draining, snatches the life out of you," McCoy said on the Buccaneers Radio Network last week.
So will it help the Bucs?
Joe sure hopes so. There's no reason why the Bucs keep the game close into the fourth quarter, when the toll of the heat really matters. If the Bucs drop another home game, man, Joe's going to have a hard time believing the heat is any kind of home-field benefit.