Should We Accept Jason Licht's Premise?
October 27th, 2014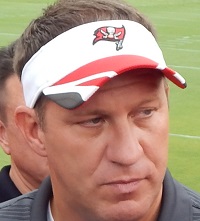 Did the Tampa Bay Buccaneers embark on a new era within an era yesterday?
Was that a rested, ready and hungry team eager to serve its head coach and faithful fans?
Consider what the Bucs' general manager had to say:
Jason Licht joined Gene Deckerhoff on the Buccaneers Radio Network moments before kickoff of the nut-kick loss to the Vikings.
"We came back from the bye and everybody was excited. Everybody had a great bounce to them. It's a new season starting today. That's kind of our message, the players' actual message to us. They all have Lovie's back. They want to win for this guy. They want to win for each other, and they want to win for these fans," Licht said.
Joe gets that Licht is a positive guy, but Licht also is a straight-shooter. So if we are to believe the Bucs had the perfect mentality after the bye week and were playing hard for Lovie, then are we to believe the offensive personnel on this team simply stinks like Joe's bathroom after a night of Newcastle and knockwurst?
Licht and Lovie rebuilt the offense and it's brutal.
Frankly, Joe doesn't accept Licht's premise. Joe doesn't believe the Bucs have the right mentality, and Joe doesn't see a team playing like "they all have Lovie's back" and are aching to deliver suffering fans a victory.
Joe sees too many foolish mistakes, lame efforts and manhandling in the trenches.