Rave Film Review For Glennon
October 2nd, 2014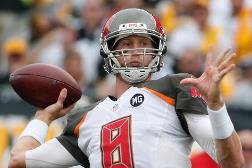 A prominent former Buccaneer has gone to the game film and says he sees real growth from rookie Mike Glennon to the current Year-2 version.
The little things are standing out.
Joe recommends the audio of former Bucs tight end Anthony Becht below. Becht is dialed in to all things Bucs as a member of the Buccaneers Radio Network, in addition to his duties for BSPN.
Becht sure sounds like a new member of the Mike Glennon Mob, but Joe cannot confirm that.
There is improvement in Glennon moving in the pocket and going through his progressions and finding open receivers, Becht said, even if his passes weren't always on the money.
"At least his eyes and vision were properly set according to what the defense gives him," Becht said on WDAE-AM 620 this week.
He went on to praise the Bucs for taking the "shackles" off the offense. "I saw actual patterns and combination routes," said Becht, who liked that the Bucs were "not babying Glennon" against the Steelers.
For Joe, this analysis is especially encouraging because Glennon absolutely needed to get a lot better than he was last year to be considered a "quarterback of the future." If there's evidence of that already, then there's hope that Glennon can evolve into a solid NFL starter.