Play To Your Paycheck Immediately
October 23rd, 2014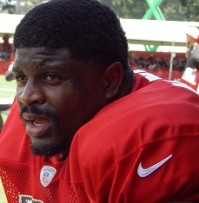 Joe hates comparing the 1996, inaugural Tony Dungy Bucs to the current team. It's almost stupid.
Different personnel, different rules, different approaches for offenses.
Former Bucs QB Shaun King, of the three quarterbacks to the lead Tampa Bay to the NFC Championship game, agrees with much of that sentiment.
King says comparing key cogs of '96, second-year players Warren Sapp and Derrick Brooks, plus rookie cornerback Donnie Abraham and others, to their current counterparts is a bad fit. Speaking on WDAE-AM 620 this morning, King says the Bucs have too many quality veterans to make that leap, including a veteran head coach.
"All the key components on defense in Tampa are veterans outside of Lavonte David [in his third year]," King said on WDAE-AM 620. "When you look at Michael Johnson, when you look Dashon Goldson, when you look Alterraun Verner. These are veteran guys. I put the onus on them. At some point the players have to produce. It's not all on the coaches. It's not all on the scheme. When you have quality personnel, you know, you guys got to start playing up to your pay level. I don't think they've done that.

"If I was Lovie, I'd be upset about it. And I'd be very honest with these guys: 'All of this is going to change if your performance is going to improve.'"
Throw in John Lynch getting his first season as a full-time starter in '96, and rookie Regan Upshaw in the Michael Johnson role that entire season, and it's painfully clear that those Bucs were exceptionally young. But they got it done, finishing with the eighth-ranked defense in the NFL, despite a garbage offense.
Joe agrees that the high-priced, veteran Bucs have to step up.
Let's go Clinton McDonald. You were brought here to rush the passer off the Super Bowl champs. The Vikings have a sad offensive line.
C'mon, Mason Foster. You're a healthy, experienced player in a contract year.
Dashon "Hawk" Goldson, don't let the Bucs have an historically garbage pass defense.
As King suggested in his radio chat, the Bucs will have a very busy offseason again if guys can't play to their pay grades.