Offense Doesn't Need Fixing
October 14th, 2014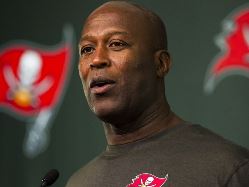 No, the Bucs offense didn't remind anyone of the "Greatest Show on Turf" during the seal-clubbing by the Crows Sunday.
Frankly, even if it did, it wouldn't have mattered anyway, the way the Bucs pass defense treated Crows wide receivers as if they had the shingles.
Unless the Bucs had Dan Marino and Jerry Rice in their prime, there was no way the Bucs were going to beat the Crows the way the defense got gashed time and time again.
So of all the things to fix with the Bucs, coach Lovie Smith all but said he's not going to lose any sleep fretting about the offense during the bye week.
"Our offensive team has done [well]," Lovie said. "The offensive production wasn't good yesterday, but before that, in the previous two games, it's been pretty good. We're looking at all areas, but that probably won't be one of them.

"We didn't start exactly the way we would have liked. That turnover early on hurt us, but Mike [Glennon] came back and did some good things, he was under a lot of pressure. We saw some things that we really liked and I've said that every game that Mike has played. Again, just stay with us and after it's all said done who knows, maybe Baltimore is a great football team right now also and we played them at wrong time too – that happens from week-to-week in the NFL. Some teams you just don't think are going to play a certain way, they play a little bit better, so maybe that was the case also. Let's not put everything based on this game. I know what happened in the Atlanta game, but there are a couple of other games in between there where we played some pretty good ball too. Hold on."
The offense has done OK since Glennon has returned to start. But, oh, man, the defense! Joe gets nauseous just thinking about it. How bad is the Bucs defense? Try swallowing the following numbers:
Against starting quarterbacks, not the slugs like Derek Anderson or Austin Davis, the Bucs in four games have given up a ghastly 1,864 yards. In four games! That's an average of 466 yards a game the Bucs are coughing up — from a head coach who was considered a defensive wizard. Try washing that down with your caffeine this morning. Y
You can understand why Lovie isn't worried about the offense. He is too busy trying to figure out why his defense has turned into such a matador defense. Ole!'
At least Joe can safely say, once (if?) Lovie can fix the defense, then he can set his next goal on a search-and-recovery mission to find the whereabouts of Doug Martin circa 2012.