McCown Calls Glennon "Pretty Efficient"
October 15th, 2014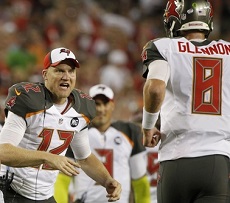 Mike Glennon fan Josh McCown likes what he sees from No. 8.
Yesterday at One Buc Palace, Joe asked McCown to comment on Glennon's performance and share some of what he likes about the Bucs' offense.
"I feel like Mike's playing, you know, pretty efficient for the most part. That's what you want to have," McCown said.

"At this point, we'll look. That's what you can do at the bye, kind of go back and look at the season as a whole where you're at after six games and, you know, make a judgment on that. And see where the bright spots are, because those are the things you want to hang on to and build on. But when you're 1-5, there's not near as many as there needs to be."

First and foremost, McCown likes the way the Bucs' passing game has evolved.

"I think, No. 1, just targeting, getting the ball all over the field, like getting it downfield has really been good," McCown said. "Seeing the guys get downfield and make plays."
He heaped further praise on Glennon for how he's performed despite "running a little behind" because of limited first-team reps through the summer. And McCown said Glennon is "throwing the ball well."
As Joe wrote yesterday, it appears McCown will be ready to play sooner rather than later. There's no logical reason to return him to the lineup, and Joe suspects McCown would understand that decision, if Lovie Smith makes that wise decision.